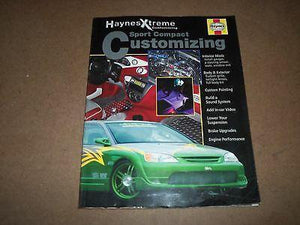 Haynes Xtreme Sport Compact Customizing Manual
Regular price $5.39 $4.48 Sale
You are bidding on a Haynes Xtreme Customizing Manual: Sport Compact Vehicle Customizing. This book is in Average condition with Light to Moderate wear and creasing.  

Haynes—publishers of the best automotive manuals for repair your vehicle—now offers the same easy-to-follow, step-by-step process for customizing your ride. Everything from adding a custom front grille to transforming your interior with awesome audio and video can be found in this comprehensive book. And, since it's from Haynes, it's easy to do-it-yourself!

Book Summary
All you need to know about customizing your ride:
--Build a Sound system
--Body & Exterior Mods
--Add In-car Video
--Brake Upgrades
--Custom Painting
--Interior Mods
--Engine Performance
--Suspension Mods
--Handy tips and tricks from the experts
--100s of customizing ideas
--Full color throughout



Table of Contents
--Chapter 1: Introduction
--Chapter 2: The bad with the good
--Chapter 3: Security
--Chapter 4: Interiors
--Chapter 5: Body and Exterior
--Chapter 6: Mobile Entertainment
--Chapter 7: Suspension
--Chapter 8: Wheels and Tires
--Chapter 9: Brakes
--Chapter 10: Engine Performance
--Safety
--Source List


Product Detail:
Softcover: 184 pages
Part Number: 11101
ISBN: 1 56392 505 2
Product Dimensions: 8 ½ by 11 by ½ inches


Thanks for your interest, and please ask any questions you may have!
>
Thanks for viewing our listings. Please click "Ask A Question", or call us if you have a parts need that you do not see listed here. We will do our best to locate the parts you need, and make every effort to save you money. 
For parts information in English please call Chris at (813)365-0042.
Gracias por ver nuestros anuncios. Por favor, envíe un mensaje, o simplemente llámenos si necesita alguna's pieza que no ves listado. Mencionado Haremos nuestro mejor esfuerzo para localizar las piezas que necesita, y hacer todo lo posible para ahorrar dinero.
Para espanol llame a Darcy a el (813) 365-0042.